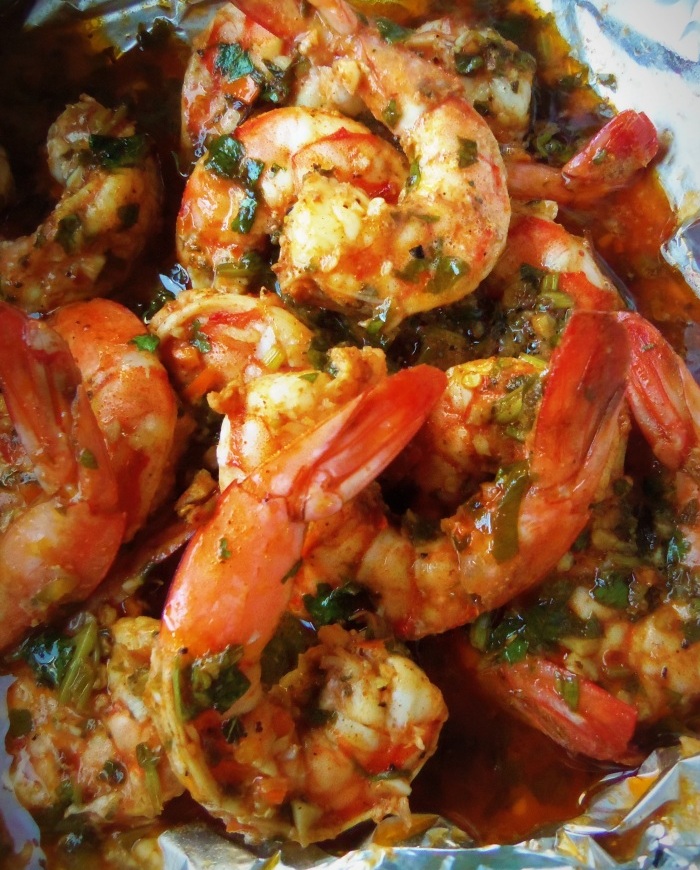 Yields up to 4 servings as an appetizer
Ingredients:
5 tablespoons olive oil
2 tablespoons butter, softened
2/3 cup finely chopped cilantro
Juice of 1 lime
4 tablespoons Worcestershire sauce
4 cloves garlic, minced
1 Habanero pepper, minced
1 teaspoon oregano
1 teaspoon smoked paprika
1 teaspoon red pepper flakes
1/2 teaspoon salt
1/2 teaspoon pepper
1 pound large shrimp, cleaned, peeled, tails on (you could leave the shells on if you prefer)
Directions:
1. Combine all of the ingredients in a bowl, minus the shrimp. Stir well to combine, taste for salt. Add in the shrimp and marinate in refrigerator for 45 minutes, no more than 1 hour.
2. Preheat grill to medium heat for 10 to 15 minutes, about 325ºF. I have a charcoal grill. Remove shrimp from refrigerator 20 minutes before cooking.
3. Divide the shrimp, including the marinade into two foil packets, seal shut. Cook on grill with lid closed for 5 to 7 minutes, checking after 5 minutes. Remove from grill and let sit for 5 minutes before serving.
Notes: Serve with sliced baguette for soaking up broth or warm tortillas and salsa.
Found on hispanickitchen.com
---
A few years ago, I was diagnosed with celiac disease" Going Gluten free has been an adventure and a challenge. These are some of the recipes my family has enjoyed as we eat with our newly imposed restrictions.
See more of my favorite gluten-free finds here.