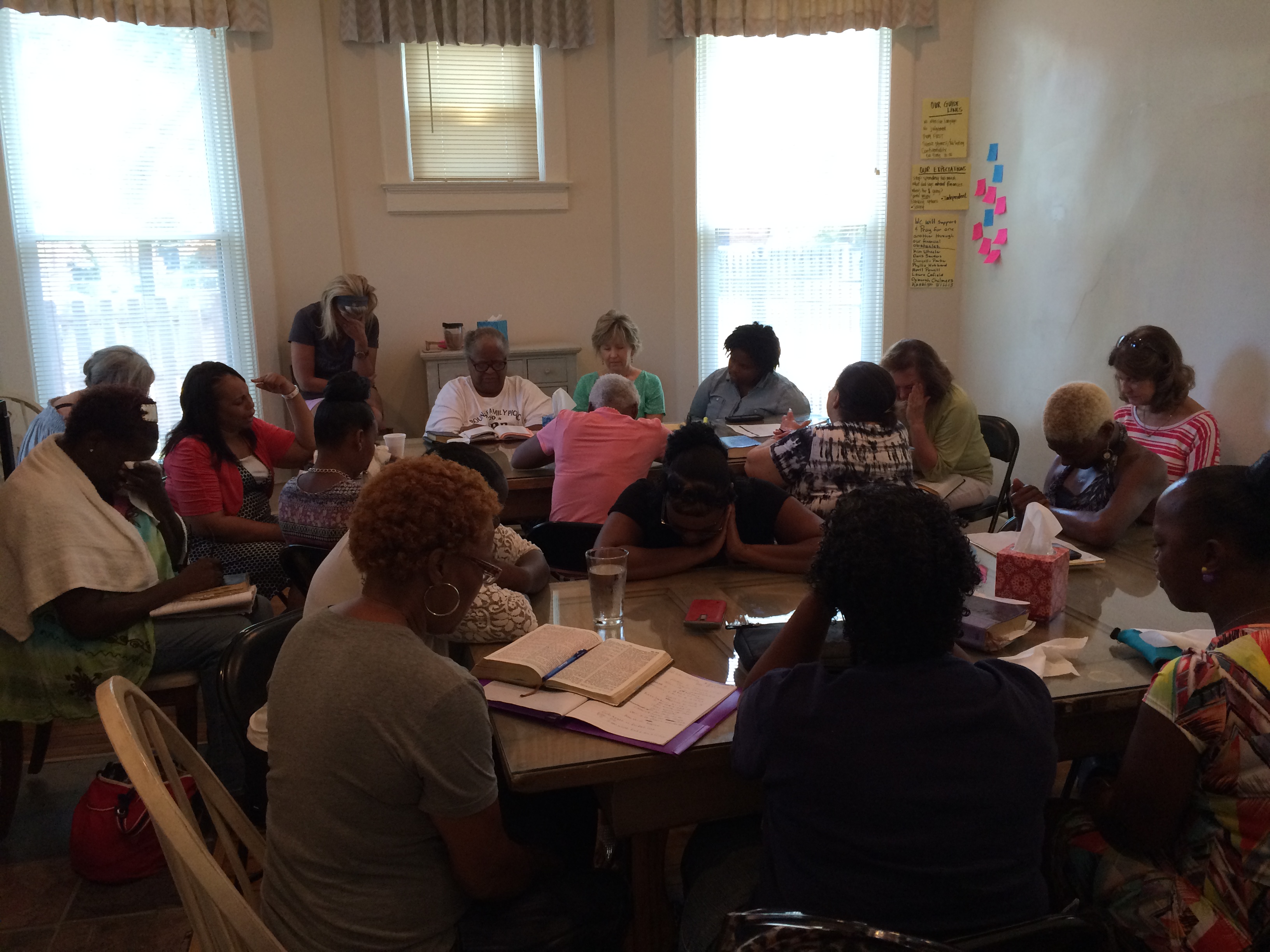 A normal day for me is full of checklists and agendas centered on making life comfortable. I put together care packages, do laundry, iron, grocery shop, cook, make home improvements, get in a little exercise, and run errands all over town in my pretty little Mercedes convertible… Oh and of course, I start each day having my quiet time in my well-air-conditioned comfortable home. If anyone ever decides to read my prayer journal some day, she would find an often-repeated prayer: "Jesus, help me love you better."
Yesterday, I discovered the outrageous offensiveness to my oft-repeated prayer. Yesterday, in-between errands, I spent a couple hours with the friends I have made in Orange Mound. We got together to pray and offer scriptural wisdom in the hope of healing the brokenness and frightening consequences that have been inflicted this week on a world that judges by color. In this unadorned room, in the heart of one of the poorest, crime-prevalent neighborhoods in America, 5 pristine, Jesus-loving white women and 25 unaffected, righteous black women went before the Lord in prayer. As I sat on my pretty little perch wearing my classy diamond earrings, starched shorts and Tory Burch Shoes, I was sure the prayer time would be of the "Lord Jesus, Heal us" theme. After one of the other W2's (white women) opened the prayer time, the African American woman sitting closest to me started shouting with inspired and room shaking eloquence a litany of praise. Within seconds there was stomping and crying and shouting and speaking in tongues and clapping to the degree and volume that the room vibrated. It was frightening and wonderful and convicting and awesome. For 30 minutes the room was filled with nothing but declarations of God's goodness and His trustworthiness. These women were all full of hope and joy and a richness in their adoration for Jesus. I wish you had been there. I wish I had the adjectives and adverbs and gift of narrative so you could feel it.
Because I can't adequately describe the wonder I experienced yesterday, I will do what I can and share with you the room-shaking truth I discovered. My comfortable little quiet times are so full of ME. I get so entrenched on the "forgive me fors" and requests and I don't get wrapped up in the glory of God and privilege of praising Him. My time with the Lord is generally one of those things that I check of the list. I pray that He will help me love Him as I hope that He will divinely sweep in all on His own while I passively sit back and wait for His bright magical touch. By comparison, the women in the room yesterday don't live in comfort and their prayer time should be thick with requests, but in a dark and frightening season in this country, they could not stop praising and thanking the Lord. Why? Because they know Him and they are loving Him better than I am.
You see, a relationship with Jesus needs to be centered on Jesus and not on us. I have been content to be comfortable and starched. Comfort can be such a deceiving distractor. When we see Jesus, and witness His glory, we want more. Not only does my prayer life need to change, so does my day. It is time to do and time to love and time to get a little uncomfortable. Truthfully, there is nothing comfortable about being vulnerable or spending time out of my established, safe routine. Do I really want to love Jesus better? Do you? Am I content with comfortable? Are you? If I want more… more joy… more hope…. more confidence in Jesus, I need to get over myself and love my neighbor. I pray we will all want more.
 "O Jerusalem, Jerusalem, How often I have wanted to gather your children together as a hen protects her chicks beneath her wings, but you wouldn't let me. Blessings on the one who comes in the name of the Lord!' Luke 13:34-35abbr. (NLT)

"Teacher, which is the most important commandment in the law of Moses?" Jesus replied, "'You must love the Lord your God with all your heart, all your soul, and all your mind.' This is the first and greatest commandment. A second is equally important: 'Love your neighbor as yourself.' Matthew 22:26-39 (NLT)

" The thief's purpose is to steal and kill and destroy. My purpose is to give them a rich and satisfying life." John 10:10 (NLT)

"To love another person is to see the face of God." Jean Valjean